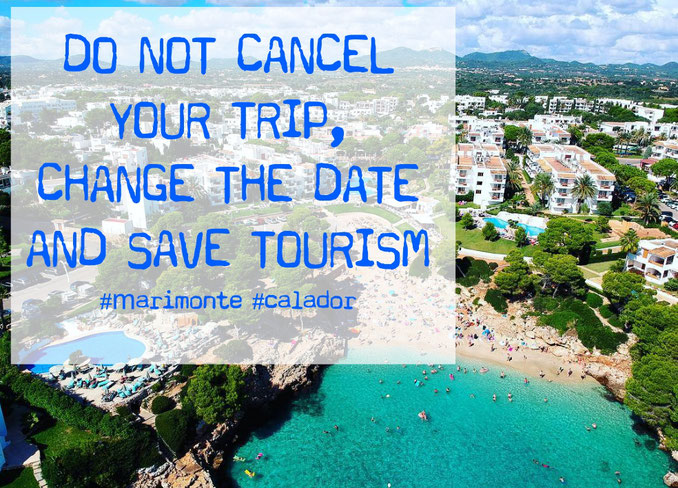 This page is on three languages:
English
German
Spanish
Please scroll to your preferred language. Thank you.
At the bottom of our page you can find our terms and conditions to which you agreed during the booking process.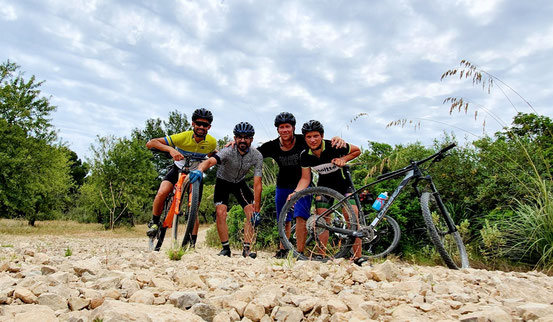 UPDATE June 6th 2020:
We are currently preparing our short season 2020 and plan to reopen our bike centre and watersport centre July 1st, when the airport in Palma opens again for international tourism.
We can ensure you: we will offer all our activities and services.
At this very moment many things are uncertain, such as how long the season might extend until autumn/ winter. I decided to open marimonte during the whole winter with the intention to offer the alternative to visit Mallorca in a season that many still didn't experience- you might be surprised how beautiful Mallorca is in winter... and its short sleeve weather many days ;)
Please contact us for you travel plans and we will assist you wherever we can, to select a hotel or finca, or to schedule activities with you. Contact
---
Good morning dear marimonte customers,
good morning dear marimonte family.
At the moment we are not allowed to operate our business due to the state regulation "Real Decreto 463/2020 14.03.2020". According to current knowledge, the duration of this order will last until April 12th- in this case we will open Monday April 13th 9am.
On March 1st, 2020, the four of us at marimonte started the season:
The team you know, consisting of the shop manager Andreu, the tour guide and mechanic Toni, our all-rounder Joan who runs the surf school and works in the bike shop as a mechanic and customer service agent, as well as me, Fabian, the owner, who helps wherever he is needed and otherwise tries not to stand in the way when my great and well-trained team does the day-to-day business.
As of today, we are better prepared than ever. Our almost 140 bicycles are perfectly serviced and cleaned for rent. Of course, we invested heavily again this year and bought new bikes.
The water sports season is just around the corner and all boards, sails, boats, etc. are ready for you.
The team is experienced and has a great routine.
Together with our partner INTUROTEL, whose partner we are also under the brand name inturotelACTIVE, we tried to extend the summer season. The Hotel CALA ESMERALDA was opened for the pre-season and on March 6th we started a promotion together which included free bike trips and free stand up paddle courses. Furthermore there were free excursions to the weekly markets, hikes and a cooking class of Mallorcan cuisine.
The threat from the virus has suddenly interrupted our dynamics and preparation. For the upcoming days we are not allowed to open our shop, give bicycles to customers, or train ourselves.
Tourism is prevented by the law. The legal consequences and a possible state subsidy are currently being examined by all parties.
Our economic ability to act will be put to the test, the next 10 weeks will be the main season of our bike business and until now we were very optimistic about the 2020 season due to the strong booking situation.
According to our terms and conditions, a refund of 50% of the rental price is possible, if the cancellation is communicated 30 days before the rental date.
In the past 22 years I have built up the marimonte company and try to continue to look ahead as positive as possible.
I ask you in sporty collegiality and solidarity to check whether it is possible for you to currently refrain from withdrawing from the booking and to change the travel date instead. We are happy to change the booking date or keep it open without restricting the date. This applies to all bookings for 2020!
If you decide to do so, a specially made marimonte team shirt will be waiting for you as a small gift.
In response to the new law and the overall situation, we will act as follows. If the situation changes, this will of course be adjusted:
1. The marimonte store remains closed for the duration of the governmental order
2. The team is currently at home
3. Currently rented bicycles can be left in your hotel - I coordinate the pick up at a suitable moment
4. As soon as we are allowed to open again, we will do so
5. Cancellations of the booked bikes are possible up to 30 days before the start of the rental with a refund of 50% according to the terms and conditions
6. All bookings for the 2020 season can be rebooked indefinitely without additional costs - also for the coming season
7. marimonte will not end the season in November as usual this year, but will open the winter continuously, initially until New Year's Eve
8. In order to promote winter as a travel alternative, we will soon announce further information
9. Bicycles for the period November & December are offered at a promotion price (please give us some time to organize everything)
I'll keep you posted,
stay healthy, positive and rational!
Kind regards from Mallorca from marimonte,
Fabian Runge.
Guten Morgen liebe marimonte Neukunden,
guten Morgen liebe marimonte Familie.
Derzeit ist es uns aufgrund der staatlichen Anordnung "Real Decreto 463/2020 14.03.2020" nicht erlaubt unser Geschaeft zu betreiben. Die Dauer dieser Anordnung wird nach derzeitigem Erkenntnisstand am 12.April zu Ende gehen, was uns eine Wiedereroeffnung am 13.April 9 Uhr ermoeglichen sollte.
Am 1.Maerz 2020 haben wir bei marimonte zu viert die Saison begonnen:
Das Ihnen bekannte Team, bestehend aus dem Shopmanager Andreu, dem Tourguide und Mechaniker Toni, unserem Multitalent Joan der sowohl die Surfschule leitet als auch im Bikeshop als Mechaniker und Kundenbetreuer arbeitet, sowie mir, Fabian, dem Eigentuemer, der ueberall mit anpackt wo er gebraucht wird und ansonsten versucht nicht im Weg zu stehen wenn mein grossartiges und eingespieltes Team das Tagesgeschaeft verrichtet.
Zum heutigen Stand sind wir besser vorbereitet als jemals zuvor. Unsere fast 140 Fahrraeder stehen perfekt gewartet und geputzt zur Miete bereit. Natuerlich haben wir auch dieses Jahr wieder kraeftig investiert und neue Fahrraeder gekauft.
Die Wassersportsaison steht vor der Tuer und alle Boards, Segel, Boote etc sind bereit fuer Sie.
Das Team ist eingespielt und routiniert.
Gemeinsam mit unserem Partner INTUROTEL, dessen Partner wir auch unter dem Markennamen inturotelACTIVE sind, haben wir versucht die Sommersaison zu verlaengern. Das Hotel CALA ESMERALDA wurde fuer die Vorsaison geoeffnet und am 6.Maerz haben wir gemeinsam eine Werbeaktion gestartet, welche kostenlose Fahrradausfluege sowie kostenlose Stand Up Paddlekurse beinhaltete. Des weiteren gab es kostenlose Ausfluege zu den Wochenmaerkten, Wanderungen sowie einen Kochkurs der mallorquinischen Kueche.
Die Bedrohung durch den Virus hat unsere Dynamik und Vorbereitung nun ploetzlich unterbrochen. Fuer die kommenden Tage duerfen wir weder unser Geschaeft oeffnen, noch Fahrraeder an Kunden ausgeben, oder selber weiter trainieren.
Der Tourismus ist durch das Gesetz quasi unterbunden. Derzeit wird die juristische Konsequenz sowie eine moegliche staatliche Subvention von allen Seiten geprueft.
Unsere wirtschaftliche Handlungskraft wird auf eine harte Probe gestellt, die kommenden 10 Wochen sind Hauptsaison unseres Fahrradgeschaefts und wir waren bis vor kurzem aufgrund der starken Buchungslage sehr optimistisch fuer die Saison 2020.
Gemaess unserer AGB ist eine Rueckerstattung in Hoehe von 50% des Mietpreises moeglich, sofern der Ruecktritt 30 Tage vor dem Mietdatum mitgeteilt wird.
In den vergangenen 22 Jahren habe ich die Firma marimonte aufgebaut und versuche weiterhin moeglichst positiv nach vorne zu schauen.
Ich bitte Sie in sportlicher Kollegialitaet und Solidaritaet zu pruefen ob es Ihnen moeglich ist, derzeit auf einen Ruecktritt von der Buchung zu verzichten und stattdessen den Reisetermin zu aendern. Gerne aendern wir den Buchungstermin oder halten ihn ohne Beschraenkung des Datums offen. Dies betrifft alle Buchungen fuer das Jahr 2020!
Sofern Sie sich hierzu entscheiden wartet als kleine Aufmerksamkeit ein eigens dazu hergestelltes marimonte Team-Shirt auf Sie.
Als Reaktion auf das neue Gesetz und die Gesamtsituation werden wie folgt handeln. Bei einer Veraenderung der Lage wird dies natuerlich angepasst:
Das Geschaeft marimonte bleibt fuer die Dauer der staatlichen Anordnung geschlossen

Das Team befindet sich derzeit zu Hause

Derzeit vermietete Fahrraeder koennen in Ihrem Hotel stehen gelassen werden- ich koordiniere die Abholung zu einem geeigneten Moment

Sowie es uns wieder erlaubt ist zu oeffnen werden wir dies tun

Stornierungen der gebuchten Raeder sind bis 30 Tage vor Mietantritt mit einer Rueckerstattung von 50% laut AGB moeglich

Saemtliche Buchungen fuer die Saison 2020 koennen zeitlich unbegrenzt ohne Zusatzkosten umgebucht werden- auch auf die kommende Saison

marimonte wird dieses Jahr nicht wie gewohnt die Saison im November beenden sondern den Winter ueber, zunaechst bis Sylvester, durchgehend oeffnen

um den Winter als Reisealternative zu promoten werden wir demnaechst weitere Informationen bekanntgeben

Fahrraeder fuer den Zeitraum November & Dezember werden zu einem guenstigen Preis angeboten (bitte geben Sie uns etwas Zeit um alles zu organisieren)
Ich halte Sie weiterhin auf dem Laufenden,
bleiben Sie gesund, positiv und rational!
Herzliche Gruesse aus Mallorca von marimonte,
Fabian Runge.
Buenos días queridos clientes de marimonte,
buenos días querida familia marimonte.
Por el momento no se nos permite operar nuestro negocio debido a la regulación estatal "Real Decreto 463/2020 14.03.2020". Según el conocimiento actual, la duración de este orden durará hasta el 12 de Abril- asi en teoria podemos volver a abrir el 13.Abril a las 9 horas.
El 1 de marzo de 2020, los cuatro en Marimonte comenzamos la temporada:
El equipo que ya esta conocido, compuesto por el gerente de la tienda Andreu, el guía y el mecánico Toni, nuestro allrounder Joan, que dirige la escuela de surf y trabaja en la tienda de bicicletas como mecánico y agente de servicio al cliente, así como yo, Fabian, el propietario, que ayuda donde sea y intenta no molestar a mi excelente y bien ensayado equipo cuando hace el día a día.
Hoy estamos mejor preparados que nunca. Nuestras casi 140 bicicletas están perfectamente mantenidas , limpiadas y listas para alquilar. Por supuesto, invertimos mucho nuevamente este año y compramos bicicletas nuevas.
La temporada de deportes acuáticos está a la vuelta de la esquina y todas las tablas, velas, barcos etc. están listos para usted.
El equipo tiene experiencia y rutina.
Junto con nuestro colaborador INTUROTEL, cuyo socio también estamos bajo la marca InturotelACTIVE, intentamos extender la temporada de verano. El Hotel CALA ESMERALDA se inauguró para la pretemporada y el 6 de marzo comenzamos una promoción juntos que incluía excursiones en bicicleta gratuitas y cursos gratuitos de stand up paddle. Además, había excursiones gratuitas a los mercados semanales, caminatas y una clase de cocina mallorquina.
La amenaza del virus ha interrumpido repentinamente nuestra dinámica y preparación. Durante los próximos días no tenemos permitido abrir nuestra tienda, dar bicicletas a los clientes o entrenarnos.
El turismo está prácticamente impedido por la ley. Las consecuencias legales y un posible subsidio estatal están siendo examinadas por todas las partes.
Nuestra capacidad económica para actuar se pondrá a prueba, las próximas 10 semanas serán la temporada principal de nuestro negocio de bicicletas y hasta hace poco estábamos muy optimistas sobre la temporada 2020 debido a la fuerte situación de reserva.
De acuerdo con nuestros términos y condiciones, es posible un reembolso del 50% del precio del alquiler, siempre que la cancelación se comunique 30 días antes de la fecha de alquiler.
En los últimos 22 años, he creado la compañía Marimonte y siguo mirar las cosas lo más positivo posible.
Le pido, en una colegialidad deportiva y solidaria, que verifique si es posible que se abstenga de retirarse de la reserva y que cambie la fecha de viaje. Nos complace cambiar la fecha de reserva o mantenerla abierta sin restringir la fecha. ¡Esto se aplica a todas las reservas para 2020!
Si decides hacerlo, te estará esperando una camiseta especial del equipo de marimonte.
En respuesta a la nueva ley y la situación general, actuará de la siguiente manera. Si la situación cambia, esto, por supuesto, se ajustará:
1. La tienda de marimonte permanece cerrada mientras dure la orden gubernamental.
2. El equipo está actualmente en casa.
3. Las bicicletas actualmente alquiladas se pueden dejar en su hotel: coordino la recogida en el momento adecuado
4. Tan pronto como se nos permita abrir de nuevo, lo haremos
5. Las cancelaciones de las bicicletas reservadas son posibles hasta 30 días antes del inicio del alquiler con un reembolso del 50% de acuerdo con los términos y condiciones
6. Todas las reservas para la temporada 2020 se pueden cambiar de fecha indefinidamente sin costos adicionales, también para la próxima temporada
7. marimonte no terminará la temporada en noviembre como los ultimos años, pero abrirá el invierno continuamente, inicialmente hasta la víspera de Año Nuevo
8. Para promover el invierno como una alternativa de viaje, pronto anunciaremos más información.
9. Las bicicletas para el período noviembre y diciembre se ofrecen a un precio promocionado (por favor, denos un poco de tiempo para organizar todo)
Los mantendré informados
os deseamos que mantengais la salud, el optimismo y el pensamiento racional!
Saludos cordiales desde Mallorca y desde marimonte,
Fabian Runge.
---
ENGLSH:
TERMS AND CONDITIONS
A. Limitation of liability
marimonte does not accept responsibility for any of the following:
1. damage to equipment, customer or third person
2. damages caused by change, modification or replacement of equipment
3. damages due to misuse or willful damaging
4. damages which occur due to use against the advice of the team
Damaged equipment (except wear and tear) has to be paid by the customer
B. Rules of the house
1. marimonte reserves the right to ask for a medical certificate. if the client does not present a medical certificate he declares on his own responsibility to be in fit and healthy constitution to participate at the activity
2. clients under 16 years of age are only allowed to take part in the activity with their parents' agreement
3.marimonte is allowed to stop any activity without prior notice and without any compensation should any of the following circumstances occur:
the client in our opinion is:
aa. too tired
bb. physically unfit
cc. is under the influence of alcohol/ other drugs
4. to assist you in case of incidents we offer a roadservice with the cost of 1€ per kilometer distance to the shop in Cala d'Or. Due to logistics we cannot garantee availability
5. we try to keep our bikes in perfect condition- please help us offering a great cycling experience as well to the next customer by handling the bike carefully and reporting issues you had
6. marimonte will try to fill appointments for cancelled activities but reserves the right to charge the full price for any cancellation
7. no compensation will be paid should the client be responsible for the cancellation
8. marimonte reserves the right to refuse any customer without further explanation
9. the opening times can be checked at our information board
10. The booked item needs to be paid to confirm the reservation. In case of a cancellation up to 30 days before the rental date a refund of 50% will be paid.
ESPAÑOL:
Términos y condiciones
A. Limitación de Responsabilidad
marimonte no se hace responsable por lo siguiente:
1. defectos del material o daños de los usuarios o terceros
2. defectos del material o daños de los usuarios causado por manipulación, modificación o cambio
3. defectos del material o daños de los usuarios por mal uso o destrucción a proposito
4. defectos del material o daños de los usuarios causado por el uso contra las instrucciones del personal
El cliente tiene que pagar por material dañado (excepto desgaste) según un presupuesto o la lista de precios por marimonte
B. Condiciones del contrato
1 marimonte puede exigir un certiificado médico del cliente. si el cliente no lo presenta, esta declarando en responsabilidad propia que puede participar en las actividades
2. clientes menor de 16 años deberan llevar una autorización de sus padres por escrito
3. marimonte tiene el derecho a denegar la actividad sin previo aviso y sin compensación en los casos siguientes:
si el cliente muestra
aa. demasiado cansancio
bb. limitación física
cc. ha consumido alcohol o otras drogas
4. disponemos de un servicio de carretera que tiene el coste de 1€ por kilometro de distancia desde la tienda en Cala d'Or. Por motivos de logística no podemos garantizar su disponibilidad.
5. intentamos mantener las bicicletas en perfectas condiciones- por favor ayudenos a poder ofrecer una experiencia positiva al siguiente cliente llevando la bicicleta con cuidado y reportar cualquier incidencia.
6. marimonte intenta organizar citas nuevas por el caso de citas anuladas por parte de la empresa
7. marimonte no paga devoluciones ni compensaciones por citas o reservas anuladas por parte del cliente
8. marimonte tiene el derecho de admisión de clientes
9. el horario actual esta disponible en el tablón de anuncios
10. Los artículos reservados deben pagarse en su totalidad para que la reserva sea vinculante. En caso de cancelación, se reembolsará el 50% del importe mediante notificación 30 días antes del inicio del alquiler.